Posted by Mark Allen on 21 Jun 2011 | Tagged as: Random Posts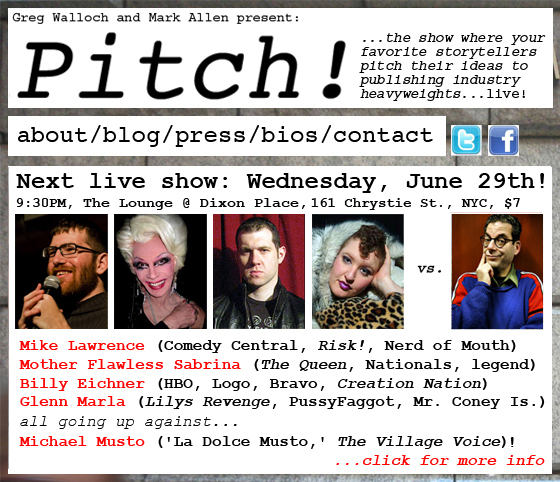 OMG! Can't… breathe… we are so excited to announce June 29th's PITCH! Not only are we in a snazzy new space, but we're debuting there with the likes of Mike Lawrence (Comedy Central, Nerd of Mouth, Risk!, John Oliver's Stand-Up Show) Mother  Flawless Sabrina (The Queen, Charmed Life, founder of The Nationals & Miss Fire Island Pageants, living legend) Billy Eichner (HBO, Logo, Bravo, Creation Nation, What Happens in Vegas, Best Week Ever) Glenn Marla (The Lily's Revenge, PussyFaggot, Reigning Mr. Coney Island) …all going up against Michael Musto ('La Dolce Musto,' The Village Voice)! Hosted by Greg Walloch and Mark Allen!
Legends! Gays! Straights! Trans! OMG! What will this colorful bunch throw at Michael Musto to dazzle him with? What will Mr. Musto throw back?
Also, ever wanted to get Michael Musto's attention? Now's your chance…we let the audience pitch to him as well! (could this be Musto's worst nightmare? come find out!)
We are also thrilled to finally announce our snazzy new space and time: The Lounge @ Dixon Place , at 161 Chrystie Street (map it!) …aaand we're now the fourth Wednesday of every month, at a new time: 9:30 PM. Ticket price: $7 (no drink minimum). Showtime: about 90 minutes. Fireworks!
Comments Off