Posted by Mark Allen on 23 Sep 2007 | Tagged as: - My First Attempts At Filmmaking -, Random Posts
click to play: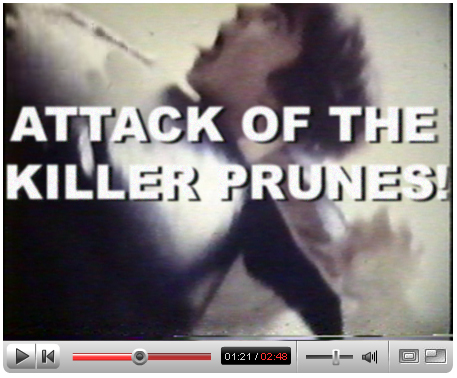 Attack of the Killer Prunes/Invasion of the Sleeping Bag People, 1981 (titles added 2007). Directed by Mark Allen. Starring Dave Smith, Tim Flannery, William Hatcher. 8-mm; 2 minutes, 48 seconds; color; silent.
As kids, my friends and I used to make a lot of weird little films using my parent's old 8-mm movie camera (an antique from the early 70's, I think). This one, made in 1981, is entitled Attack of the Killer Prunes/Invasion of the Sleeping Bag People (a double feature). First, a young man decides to warm up some prunes in the microwave – for some reason. Unattended, the device's radiation mutates the dried fruits, which grow to enormous size and creep upstairs to claim their victim, culminating in a life-or-death struggle as both are flung over the second story balcony (it was filmed in this house). Then… strange, unexplained sleeping bag monsters invade the Big Lake Park section of Plano, Texas, harassing and frightening park-goers and bike riders (click above to play).
As a double feature, the film was a kind of homage to our unwitting appreciation of the Roger Corman aesthetic. Both films alternately star my childhood friends Dave and Tim, and the second features William (who's hidden by a prop – we took our cue from Hollywood at the time, most black actors were still marginalized). Also, a friendly bike-riding family in the park unwillingly volunteer as extras. I'm not in either film, as I was behind the camera.
At our age we had no idea how to splice and edit film, so all movies had to be edited "in camera" and shot in chronological order. If we weren't sure a shot worked out the first time – too bad, that was "scene." When it came back from the Fotomat, that was our movie! It was bliss. So, not surprisingly, don't get your hopes up. At just over two minutes long, it's as crappily homemade as they come; inexplicable, overexposed and often out of focus. And there's no sound. Copying television actions shows; in one scene we replace Dave's body (after he's strangled by a giant prune, and flung over a balcony) with a stuffed, yarn-haired dummy dressed in his clothes (wait, are those the right clothes?). When he hits the ground, we quickly replace it with the real him while pausing the camera. The results are seamless! I haven't decided if it's all so charming, or just terrible. But now that it's on the internet, both classifications are irrelevant; it's forever – so enjoy! It's also bit of a time capsule specimen. These days, six year-olds are making off-the-cuff movies with phone cameras that rival Ingmar Bergman's Persona. But for us, back then we had to REALLY WORK to make something look like this. The titles were obviously added just now, using iMovie. Thanks to my brother Craig for discovering these rolls of film somewhere in my parent's house, and surprising me one birthday with a videotape transfer of them. There's a few more on the tape (this isn't the worst), I'll post them here periodically.

14 Responses to "Attack of the Killer Prunes / Invasion of the Sleeping Bag People (1981)"



Roger Corman indeed! Can't wait to see some the others….I think.




Your use of black bean bag chairs (???) as giant prunes would have made the production designers of "Fantastic Voyage" proud.

on 24 Sep 2007 at 1:42 pm Ida




Sweetheart–as I've said before, you and your friends haven't changed a bit!

xxoo
Ida




Dude, nice "Alien" figure there in the background….




What a sick diversion from work today. I can't stop watching it! It's regrettable that "Sleepingbag People" wasn't properly exposed, or perhaps faded with age. If you want me to get all Freudian on your ass, this seems to be a subconscious comment on/struggle with constipation. Are you anthropomorphizing and attacking a food that is associated with constipation only (in which case you are classified as anal-expulsive) or are you anthropomorphizing and attacking a substance that is known to aid in the cure of constipation (in which case you are classified as anal retentive?). Or is it the other way around?…and hold on, the substance is attacking YOU! Wait. Hold on, I think I need to call my therapist…

OR, are you expressing a distrust of technology on mankind (the microwave?) – a typical early Corman and 1950's scifi/horror film mindset. In this case, the microwave would actually be a communist, and your film would be about two decades too late, in the general sense.

BRAVO!




The following commentary does not reflect the views or opinions of MPA Productions:
Once again I find myself the star of Mark's website.

First off, I thought AotKP was filmed during the course of a single afternoon, but the costume change from short-sleeve shirt to long-sleeve tells otherwise. Later, the appearance of sleeping bags suggests that the change of clothes was induced by a sleepover. No prunes were harmed in the making of this film since there were no actual prunes used at all. We just clumped raisins together straight out of the box. Apologies for un-suspending the reader's disbelief so soon.

While the film is silent, the B-52s were actually playing on the stereo. The album picked up a skip when the bean-bag prop went high and I failed to catch it. Little did we know that a scant six years later we'd be buying our cherished albums all over again on CD.

Oh yeah! And there on the desk (right at 1:11) is Mark's first release ever of an 'Alien' toy. It was worth $300 in the early 90's. No tellin' how much it would go for now.

I, too, was surprised by how well the dummy-drop scene turned out. I guess we didn't give the camera enough time to realize that it was a dummy, nor that it had even dropped from a balcony. But I do remember going for broke when slapping the dummy together; wadded newspaper in old panty-hose and purple yarn for hair. I can't say why I didn't volunteer my clothes for the scene as I had done on a different reel for a recreation of the infamous shower scene from 'Psycho.' (Note to other amateur filmmakers: Heinz ketchup does NOT make a good substitute for blood; it doesn't dissolve nor drain the way old Alfred intended. And testing it before hand would've just been wasteful.)

Nor can I say why I couldn't keep a straight face. In hindsight, it seems to have been my acting career-killer. But without the benefit of a script, I had thought my character died after the fall and was a little surprised when directed to fight against the attacking prunes.

Then the thrilling climax. To my recollection, the Sleeping Bag People were supposed to be the fully matured, giant prunes, still ravenous even after having devoured my carcass in the foyer. I tried to raise protest over the discrepant appearances between bean-bag chair and sleeping bag, but was summarily dismissed. I guess one films with the monster one has rather than the monster one wants. Of course, my Dad's old army bag was unbearably hot in the summer sun and so stuffed with feathers that I couldn't hear direction. Thus explains my brief appearance out of costume, that and a rapidly growing case of suffocation. Apparently giant prunes don't digest voulour-esque shirts by Kensington very well and I was disgorged as a defense mechanism (2:25-2:30) against the young park-goer (Tim, armed only with a dried-out segment of bamboo.)

So where's the claymation reel?

on 24 Sep 2007 at 4:37 pm Ida




Tony – "…faded with age"? Mark? Never. At least that's what we can only assume since he turned his cam off.

xxoo
Ida




this is absolutely the most terrible thing I've ever seen in all the years I've been alive. I love it.




Texas sure was grainy back then.

on 24 Sep 2007 at 9:03 pm spazmo




Texas sure was grainy back then.
Lol, ain't it the truth? I thought I was watching "Grindhouse" for a second there.

I got some film editing equipment years ago for Christmas, as well as a screen and projector. My buddy had the Super-8 camera. We made a bunch of bona-fide stop-motion epics, but sadly, the cost of actually developing any of the film was just too prohibitive on our meager allowance budget.

I like to think that somewhere, buried in someone's dusty attic, the lost reels of "Hogron Unbound" and "Death Star Droids VS. the Teddy Bear Mafia" sit waiting to see the light of day.




I always end up feeling sorry for the prunes.




May I suggest The Waitresses song "Square Pegs� as music? Somehow I think it's a perfect fit.




I cannot tell WHAT is happening!




Oh thanks a lot, you didn't write "CONTAINS SPOILERS� so when I watched the movie, you ruined the suspenseful climax for me!!! Jerk!!!