Posted by Mark Allen on 20 Dec 2007 | Tagged as: - My First Attempts At Filmmaking -, Random Posts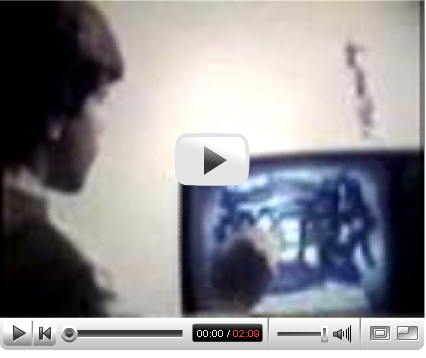 Untitled #1, 1981. Directed by Mark Allen. Starring Mark Allen. 8-mm; 2 minutes, 29 seconds; color; silent.
Here's a movie I made in 1981 where I painted a TV set, then I painted a bathroom mirror, then I cleaned the mirror with Windex. The plot of the film was planned, and intentional—and also includes an unplanned cameo by Jack Klugman. While other kids were outside playing football or discovering sex and drugs, I was in my bedroom laboring over art projects like this one. I actually saved my allowance to buy the film, set everything up, used my parent's ancient 8-mm camera, rode my bike to get it processed, etc., etc. When it was done I had a screening for my family and friends. If you wanted to guess what kind of kid I was in middle school, you'd probably be right.
7 Responses to "Untitled #1 (1981)"



ahhh the days before digital. here i always thought you were born in 1981. cool piece of your history.




Nicely crafted bait Mr. Allen! Perhaps soon you'll catch a real-live pedophile!

Sincerely,
Mr. Nose




You're so….uh…talented Mark.




It's NAMBLA-rific.




"The plot of the film was planned and intentional." To bad you didn't actually include the plot in the movie itself.

Not too many people would think to documnet their descent in to madness at such an early age.




A post-McLuhan Rembrandt.
An experimental art savant.

Paints upon the medium
to block the crushing tedium.

on 05 Jan 2008 at 6:12 pm Szel




Mark Allen, why do you hate Jack Klugman so much that you'd paint over him on the television? I mean, I'm no big fan of his, but I'm not that extreme!