Posted by Mark Allen on 30 Jan 2008 | Tagged as: - My First Attempts At Filmmaking -, Random Posts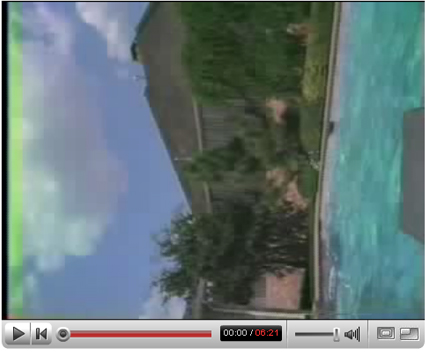 Swimming Pool, 1989. Directed by Mark Allen. Starring Mark Allen. 1/2 inch VHS; 6 minutes, 21 seconds; color; sound.
This was a spontaneous, solitary creation. I shot the video alone it at my parent's suburban Dallas house one weekend when they weren't home. Then I edited the footage in the (spooky) middle of the night, deep within the cavernous hallways of the University of North Texas RTV&F department editing rooms, with occasional help on the deck from anyone who happened to wander in. The editing was inspired by Jean-Luc Godard MTV, and the overall style was inspired by 80's Helmut Newton Falcon videos. I added the beginning title just now.
UPDATE: That YouTube link was kinda harsh-looking, here's a clearer version on Vimeo (linked above too). If you still want the old YT version it's here.
7 Responses to "Swimming Pool (1989)"



When you put this together, had you seen Bill Viola's piece "The Reflecting Pool"?

on 02 Feb 2008 at 4:32 pm szel




Mark Allen! When I read that this film was inspird by Falcon videos, I guess I was expecting something else. Like that the shorts would come off and we'd see some action, either solo or in a hot pair-up with a very young Gregory NYC. Well, although the video was done well and looked good, and you were of course adorable, I think you should do a reshoot and have some nakedness in it. Just my thoughts on the matter.




Hmmm…shades of the David Hockney film "A Bigger Splash."

Sincerely,
Mr. Nose




Yep, Hockney was my first thought too, or my second. First was "ah, Mark's reviewing that Charlotte Rampling movie". I guess that's 21 year old MA looking more like 17, or is he the elusive brother?

My current fav Youtube though is The Two Talking Cats and the translation some wiseguy did of it, though not so much the R-rated version sampling the creep yelling obscenities at his gf's cats.

on 07 Feb 2008 at 10:12 am Joshh




Broken link? Why tonight?

This video has been protected
This is a private clip.

Would have been great to have seen it.

Warmth,

Joshh




Josh – seems to be working fine now.

Mark




Is this your parent's old house over near the Galleria? Remembering that place…