Posted by Mark Allen on 08 Apr 2011 | Tagged as: Random Posts
Back in 2009 my (straight and very interesting) friend Sam Stern interviewed me about my then nine-year relationship with Jim. I noticed the original Cool Married Guy site it was on is down for good, so I thought it was worth a re-post here: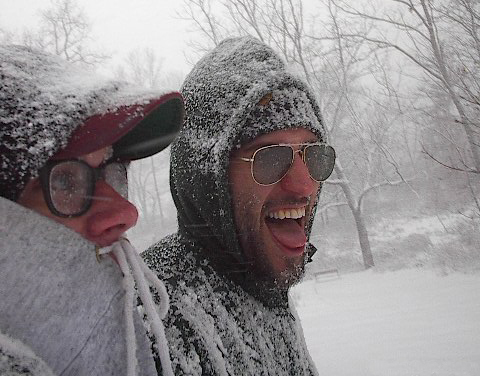 SAM: So, first off, are you married?
MARK: Not officially.
Is it legal where you live?
You know, I have no idea.
I've been trying to keep up with the national debate, but it seems to change all the time!
Ditto, hence my not even knowing what the legal status of it is in New York, this week.
How long have you been with Jim, anyway?
Eight years.
What does Jim do and what do you do?
When I first met Jim he played banjo and sang in a very successful bluegrass band, Jim & Jennie & the Pinetops, and also had an erotic cake business in Manhattan called Masturbakers. He had a criminally insane sense of humor and this killer smile. How could I possibly resist? I was a kind of post-nightclub casualty who had a show on WFMU, and wrote for The New York Times and NPR, but couldn't pay his rent. We both had these kind of scrappy, inside/out relationships with mainstream culture…not to mention gay culture. That's a real draw when you're aligned between those stratums and you're in your 30's (we're also less than a year apart in age). We just connected right away.
While talking on our first date we realized we'd been right in front of each other once in the same room in '96, in a kind of ritualistic way. Before his bluegrass conversion Jim was in this bizarre art/punk band called Fagbash. They'd come to the club Squeezebox in NYC, from San Francisco (where he lived at the time) and I'd gone to see them. I stood right in front of the stage and watched their show—a blur of chaotic clatter—in total confusion, unaware my future husband was up there pounding the drums and screaming his head off. We'd meet for real about 8 years later.
(continued…)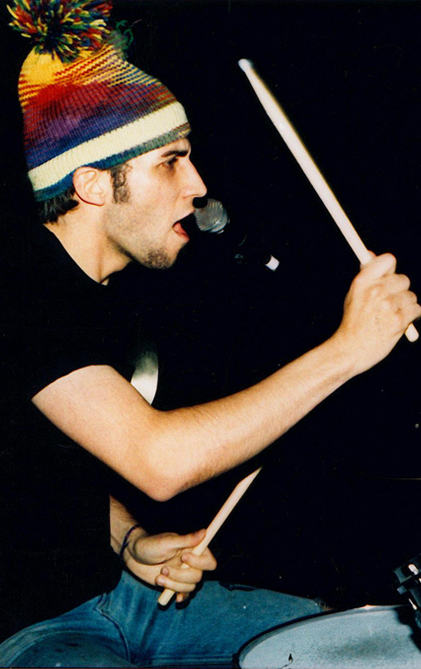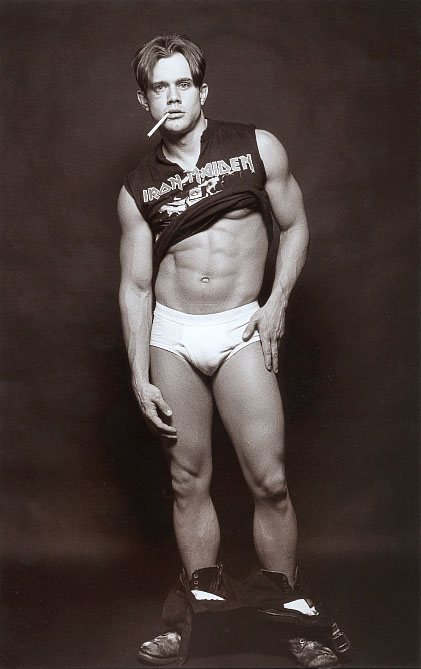 Jim is now a celebrated artist—he's part of an upcoming show at Tate Modern—and is still very much bluegrass & old tyme musician, and collects banjos. I'm still a published writer and sometimes still a radio guy. I just finished my first screenplay, and have recently climbed some other writing hurdles. We also both do handiwork where we currently live to supplement our income and help make ends meet. A few years ago, we left the city, adopted a cat named Noodles, and moved into this old house in upstate New York (where ex-NYC hippe/musician/actor/artist/writer/club types go to die…and we're not dead yet!)
We just found each other. We're both life-long slobs and ex-hippies who were never really hippies. We help each other a lot. We change, but also don't change. I can't figure out which of each of our habits the other has enabled or helped break, but I don't think I should bean-count that stuff after all this time. I'd had a lot of boyfriends in the years I'd lived in NYC up to the point I met Jim, several relationships, whatever, but none that lasted more than six months. After we'd gone out six months I was real cold and told Jim "Well, I think we should break up." I think it was this internal clock thing going off in me. You know, this is how long a relationships is supposed to last for me. A habit. He was taken aback and alienated. But we remained friends. Then a few months later—he was very sly about this—he invited me to see his band perform at Mercury Lounge, which was right near where I lived in NYC. So I get there and I'm standing right at the front of the stage and suddenly he comes out on stage alone, before his band, and he's holding his guitar and sipping a beer, and the stage lights go on behind him and he's smiling this killer smile, and the crowd there starts chanting "Jim! Jim!" And I'm staring up at this gorgeous guy who has this God-like presence and I was thinking "Now, why did I kick this amazingly perfect entity out of my life?" And so, I went craaaawwling back to him. Then we went out longer, and longer. Before you know it's eight years later and we're living in a house upstate and I'm spending Saturdays weeding the pachysandras.
Some gay guys (the artistic types, of which I'd count you) often are "against marriage" - I think the idea is that it will make gays as boring as the rest of us? Where do you stand on this?
I was a serious gay activist in my earliest years in New York City (in ACT UP and Queer Nation) so I obviously have a squirrelly, "arm chair-cynic" relationship with current day gay activists. A lot of my poo poo-ing of them, and the gay marriage fight, may be coming from, let's face it: old age. But that cynicism also comes from a learned desire to see younger gay generations fighting back or rebelling at all in the world. There was such a famine of metal activity in the visible gay population during the period from the late 90's to the mid 00's, like a shallow black hole of celebrity culture worshiping, all that expensive fashion status-label worshiping, all those dumb GLAAD-drained zombie characters on sitcoms and stuff. It was really just the worst possible reality. And this was during the Bush years!
For me personally—and I'm sure this is different for everyone—the surprise turning point was all those protests that sprouted up all over the country during the first Proposition 8 thing. In 2008 I think? For me, that was the first time since the early 90's that there seemed to be something very real coming out of these gay people, who were mostly young. Even if the demos were contextually disorganized and confusing, they seemed substantive…there were significantly large numbers, overnight. My point being: even if I'm rolling my eyes at the specific cause, I'm always supportive of gay activism in the larger sense, if it's genuine. It's like being supportive of troops.
You just don't want to see your brothers and sisters end up like the Italian Jewish family in Giorgio Bassani's The Garden of the Finzi-Continis…post-prosperity automatons acting all cordial and polite, afraid to make waves as the fascist right has slowly taken over and has come to collect them. You want to see some sort of reaction to being attacked, coming from internally.
Are we still talking about gay marriage? Haha…I guess my goal in pointing all this out is that some people (but not all) assume that all gay people are aligned on political issues. There's a lot of difference of opinion there, a lot of point of view, and contrasting priorities.
The modern gay marriage fight in America is just something that's never solidified in my mind. I can't get past the stage of rolling my eyes and wanting to change the subject to something more interesting. It's like trying to win over your great-grandparents. My bottom line: I like to live by my own rules, and I don't want to fight for the opportunity to have to rely on more authority figures. The money spent on a ring is just wasted disposable income as far as I'm concerned. Of course, the pro-gay marriage side see it as the reverse of all of this, but there you go. My partner and I were born gay, but us being in a committed relationship is our choice. Jim actually lived in New Paltz, NY when the first inklings of the current gay marriage fight were happening with Mayor Jason West. Remember that? Around 2004? We drove by main street when the gay activists were having some massive ceremony by some church, all the media there filming them. And we were like "Eww, what NERDS!" Our feelings haven't changed much.
(continued…)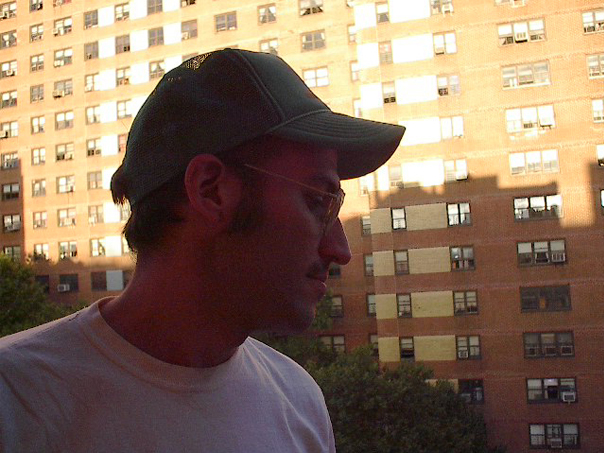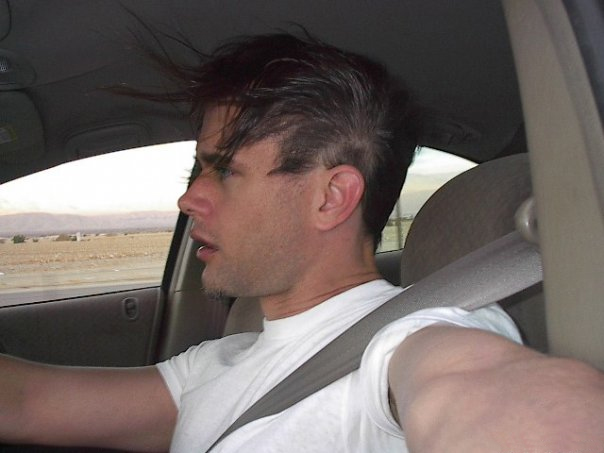 Do you think sexual choice is necessarily political?
Like most people, I believe sexual orientation is a combination of nature and environment, with a very heavy emphasis on the former. And yes, it's very politically charged, which is something gay people have to deal with their whole lives whether they want to or not.
Sometimes they say that Men are From Mars , Women are From Venus. Well, you and JIm are both from Mars - does that make things always easy?
Hmm, I think you're onto something here, Sam.
What are the things that you and Jim share and totally connect on?
Our outlook on the world. Our appreciation of culture. Our sense of humor, mostly, and lack of seriousness about most things. We never run out of things to talk about when it comes to the things that excite us or make us laugh. We talk to each other in "retarded" voices or "deaf people" voices, and are proud about how that horrifies certain people. We're so lucky. We connect on things psychically without having to say anything to one another, which means we can coast along side each another without a lot of fuss or explanation. After we'd been together one year, on my birthday he surprised me with this hand made cake. The fact that he did something that hysterically crass without prompting from me, and presented it with a proud smile, knowing I'd love it and would burst out laughing, which I did, says it all. I knew we'd be together a long, long time.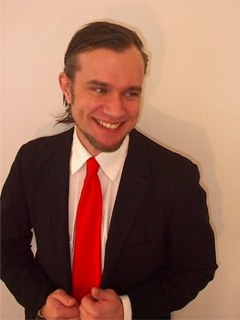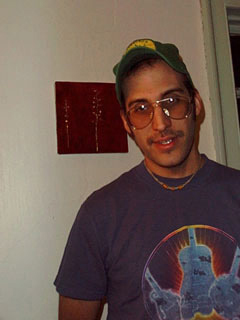 Physically, he has this really handsome face that's my achilees heel. A great profile, great nose and this killer smile that he kind of controls everyone with. Nobody can resisit it! I can't stay mad at him, because he just walks into the room and smiles and your circuits just blow. A few weeks ago there was a tense moment where we'd just had a fight about something rediculous, and we both stormed away from each other. And he came in later holding a chicken pot pie for dinner (for one…none for me) and this adorably threatening "don't talk to me" but also needly, helpless, unhappy look in his eyes. And no smile. And it's like I started doing everything I could to get that smile back. Sacrifice, even! Because I couldn't stand that I'd made it leave, and why. He needed me! I needed him! Something worked there.
We counter each other in ways I don't think we're even aware of, perhaps even competitively. In the larger sense, I suppose gay male relationships are curious from a heterosexual male point of view. For example: for a gay man, when it comes to guys you're interested in sexually only—which becomes a challenge, to win them over—you're drawn to the persona that's reflected in their appearance, which is a quick-fix perception by design. But with a guy who you're looking at as a life partner, it's obviously their whole package; their appearance, their thoughts, their reactions to things and motivations, the way they seem to impact the world and people around them, or seem to have the potential too. They earn your respect. You watch them interacting with the world when you know they don't know they're watching, and you're impressed with thier ambition, plus the shape of the back of their neck. Stuff like that. With men relating to men, in whatever context, there's a kind of preternatural competitive element, a kind of admiration. I'd imagine that's similar to how women look at men in heterosexual relationships, they might be looking for similar qualities, but those that they relate to being a good provider. And I know that probably most heterosexual men have these kinds of thoughts at one time in their life or another, about a male best friend they had or a male friend they've liked or admired, there's this brief thought of "I could be this guy's lover if I were gay." but they aren't wired that way so the sexual idea usually cancels it out. I've certainly thought that about a woman or two I've known in my life, but then the thought of her boobs and stuff makes it like "Eh, no thanks." Homosexual relationships combine all these elements. I mean there's some trade-off there, heterosexual romantic relationships offer profoundly rich qualities that same-sex couples will never experience. But it goes go both ways.
(continued…)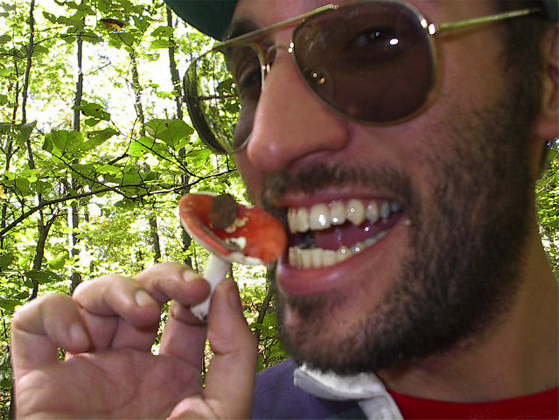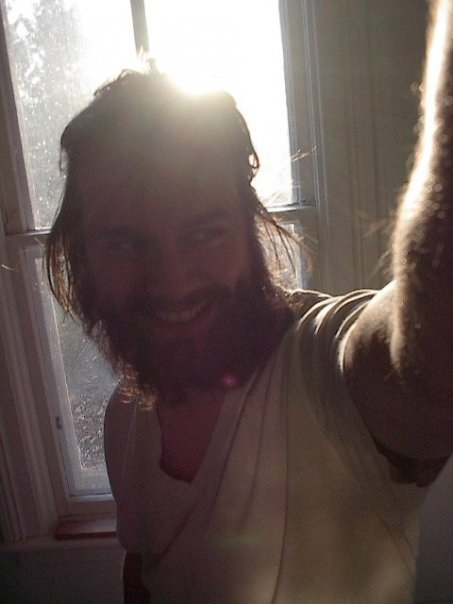 Alternately, what does Jim do that you find totally alien? What do you do that makes him retreat into the next room with a horrified look on his face?
I wish he was neater and more organized, and more on-the-ball and strategic in his day-to-day, sometimes. Just sometimes. He sees this as controlling, whereas I see it as simply logical. On the other hand, he wishes I would relax and not explode when little things don't go my way, which I see as being lazy. He wishes I wasn't so cold sometimes. He probably also wishes I'd socialize more and not be such a hermit, sometimes. Sometimes. I always find myself in these petty, negative mental, loop-de-loops whenever he does something that frustrates me. These kinds of things never really resolve themselves. People never really do change, when it comes to little things like that. But every once in a while you'll somehow glimpse a larger perspective and, yeah, you realize we actually are kind of playing off each other's strengths and weaknesses, a kind of double unit, a team. I think if each of your own personal pet peeves end up forming a kind of ying/yang, you're very lucky.
Private space is very important for both us in different ways. I know I've seen Jim figure out how to respect this for me, which means the world. Playing banjos constantly is important to Jim, even though it's ear-splitting and nerve-rattling (even though I do enjoy bluegrass) I allow him to do this all he likes and do everything I can think to stay out of his creative flow.
Trust is a big issue, that you kind of…work through. It's multi-layered. It's kind of this mobius-strip process you keep coming back to again and again. Jim is German/Dutch, and a big guy. He can be very possessive and jealous, or seem to be. It took us a while to get past this whole thing where he'd act like Dr. Freeze around my gay friends, giving people the hairy-eyeball and trying to figure out who I'd slept with in the past. In turn I had to learn not to be critical and condescending to his many female friends since, as a gay man, I'm a natural misogynist! Actually, those things only happened a time or two. The point is we caught ourselves doing these things, whether it was the other one pointing it out, or self-reflection, or whatnot, through that learning we eventually began to respect each other's borders. Now, a cynical question is; was it that or did we figure out how to pull the wool over each other's eyes? Who knows. But there you go…you learn to trust each other so you're betting on that it's the former, on the whole.
Now we're to the point where we can admire other men openly, like movie stars or guys on the street. That was a big step, and was thin-ice territory for a long time. We can be like "Oh that guy is adorable" and "Oh no he's not, the other one is" and actually have a healthy conversation about it (and I'm sure this is a FAR more complex and tangled hurdle for male/female couples). There are these college-age guys that ride ATVs in the woods behind our house without their shirts. We're always ogling them and laughing about it, running out there to help them, tripping over our kimonos.
(continued…)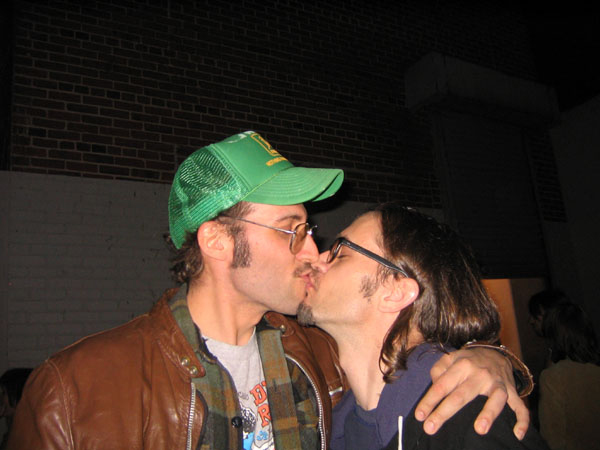 Now that you're in a committed relationship, could you ever imagine being single again?
Constantly! I'm imagining it right now! No, I joke…but when you're in a relationship you're always threatening yourself during moments of stress in the bond with "I gotta get out of this!" I think that kind of mental process is an important element in whatever mix it is that always makes you stay. I can't put my finger on how or why. Being able to stay with Jim means I can laugh when I refer to him as "the ol' ball-and-chain" or "the Big Lug." It's that sitcom cliche: I've been with you forever and you drag me down but I love you, so it's warm and funny. It's like the way Phyllis Diller always referred to her husband as "Fang" in her classic comedy routine. And we both love Phyllis Diller, so there you go.
What's the one thing about married life that you simply can't get when you're single?
Support. Reliable support. Also, instant back rubs or foot massages. Needless to say, the whole …ahem… "burning desire" thing does fade after time, in its own way. We started doing this thing last year where every other day we alternate giving the other a 90 minute foot massage. One day it's his turn, then two days later it's mine. It's usually when we're watching a DVD or something. Doing it that much, and going back and forth like that, you get really good and intuitive at it, very aware of each other physically. We love it. Sometimes it's all I look forward to after a hard day. It's like a whole new sex life! I think it's probably good for our health. From crass birthday cakes, to support to foot massages. It's a journey.
We hear great things in the media and on Six Feet Under about gay couples who are married or the next best thing, but they still occasionally bring home partners for a threesome, thus keeping the blood running hot in their own marriage. Does this apply to you and Jim at all? Or are you sort of traditionally monogamous?
Well, no it doesn't, we're monogamous. Are we traditional? Compared to what? There's this weird thing being a gay guy in NYC, when you enter a long-term, committed relationship you suddenly feel like you're cheating on every potential trick in the city. It's like; "Goodbye all you beautiful whores, it's not you, it me." Sex-wise, a fag in NYC is like a special-needs child left unsupervised in a candy store; constantly, potentially disastrous. Edgy! Jim and I both had wild pasts. So a committed relationship was kind of like a roller coaster finally pulling into the station for each of us, if that analogy makes sense. It's like you finally get off, and can think straight, and it feels good to get out and walk around on solid ground. But then of course you eventually get bored and want back on, so…maybe that's not the best analogy. Eek!
You are a writer and therefore a solitary wretch by necessity (at least sometimes). Do you have a secret for finding a balance between your work and your partner?
Boy did you just open Pandora's can of worms. Well, I always go back to that scene in Stanley Kubrick's The Shining, where Shelley Duvall wanders into that massive room Jack Nicholson is working in, and she's like "Hi honey, how's it goin'? Maybe you'll let me read something sometime!" and then he bites her head off and is all "Whenever you come in here and interrupt me, you're breaking my concentration. You're distracting me." and is a total cretin about it. That scene is OUR SCENE. We've lived this so many times. Of course, we all know how that movie ended.
But things I do drive Jim bananas, and I'll be staring at him all doe-eyed like "What could possibly be wrong, honey?" as he's biting his upper lip off in a rage. It's difficult to put yourself in the shoes of someone who's screaming at you for driving them crazy, without getting all shouty-crackers yourself. And also you realize as it goes on and on that maybe you're using some of it as an excuse for your own inadequacies, which is a kind of peaceful turning point (that you of course never let the other one in on…shh!) But with repeated beat-downs we've learned when to leave each other well enough alone. Oh, by the way, I got these bruises falling down the stairs. Yeah, again, I know…I'm such a klutz.
Like a lot of couples, do you go out on dates with other couples? Does this make you feel like a yuppie when it happens? Are you more likely to go out with other gay couples, or with a male-female couple?
Jim has more straight friends than I do. And oh yeah, going out with other couples straight or gay does feel so "adult." I really don't notice the difference between the straight and gay ones, it's a blur. I'm still shocked by the casually accepting attitude towards gay couples that young people have today. They just don't care, in the most literal sense.
What is the greatest thing about Jim, that you could never find with anyone else in the world?
Specifically? If I had to chose one trait I'd say his kindness. He's the one person in the world who's arms I can always run to. And I like to think I'm the same for him. Overall, he's just a big lug that I love very much.
How about YOU: what's beautiful about You?
Not my toes.
Thanks Mark!!
My pleasure, Sam.