Posted by Mark Allen on 29 May 2009 | Tagged as: Random Posts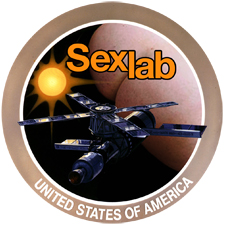 Stump trouble? Call SEXLAB. Don't know what to do with that PVC breath-control suit you got as a gag gift? Call SEXLAB. Can't stop crying after your first three-way? Call SEXLAB. Join asstronauts Wm. Berger, Pseu Braun and Mark Allen for an evening of conversation about all things sex, unbound by gravitas (or gravity). Your hosts will be occupying in SEXLAB — the only sex laboratory and sex help crisis phone-line stationed in outer space — subsisting on Tang and Astroglide, orbiting terrestrial WFMU and broadcasting on the web only (because in space, the FCC can't hear you curse). The phone lines will be open to all species for your live questions and transmissions at 201-209-9368 (or email your inquiry now), Friday, May 22, 8-11pm ET, only on WFMU.org. UPDATE: the archive of the show can be heard here.
Comments Off on WFMU: Join us…for SEXLAB!