Posted by Mark Allen on 19 Feb 2010 | Tagged as: Random Posts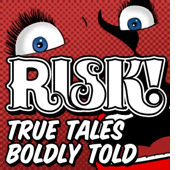 Hey New Yorkers, join me Thursday, February 25th, as I tell a live story at Kevin Allison's "RISK! True Tales Boldly Told!" (at 92Y Tribeca, 200 Hudson Street, NYC, 7PM). The theme of the evening is "BLINDSIDED: Didn't See It Coming!" I'll be sharing the stage with Rachel Dratch, Andrea Rosen, A.D. Miles, Michelle Collins and Andy Christie… should be a wacked-out evening. This is my virgin foray into live storytelling/stand-up, so bring yer tomatoes! (haha) You can buy tickets here.
UPDATE: the Risk! audio podcast of the evening is up here or here (episode Blindsided!) Here's also an mp3 link. I told the audience a story about the time a friend and I drove from Dallas to Austin naked during the 80's, and I forgot about a bunch of stuff that was in my car. Went well! (the story that is) Pics of the evening can be found here, here and here.
.
Comments Off on LIVE: "Risk!" 92Y Tribeca, NYC (podcast, mp3 link)