Posted by Mark Allen on 08 Jul 2006 | Tagged as: Random Posts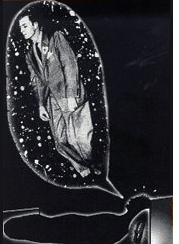 Dion McGregor may go down in history as the laziest artist of all time. His medium? Sleep talking. Sleep-Talking is the not-so-quiet (but still less popular) sister to the more notorious and crowd-pleasing Sleep-Walking phenomenon (they have a diabolical, hidden brother locked up in the attic, Sleep-Rape, but the Sleep Disorder Family would rather keep him a secret). Most everyone has talked in their sleep at some point, and many people actually "suffer" from an sleep-talking disorder - but McGregor is the first person to have gotten a record deal out of it. During the late 1950's, the reportedly very witty and acerbic Dion McGregor lived with his roommate Peter de Rome in midtown Manhattan. Rome noticed that McGregor talked quite loudly and clearly in his sleep, most always in the hour or so right before he woke up in the morning. Not just fragmented mutterings, but whole surreal monologues, stream of consciousness narration to what sounded like dreams. Rome told their neighbor Mike Barr, who in turn made it his life's work to tape-record McGregor's twilight chatterings with the hope of someday doing something with them. He recorded some 500 sessions of McGregor's unconscious rants on 7″ reel-to-reel tape, using a recorder mounted above McGregor's bed headboard in the various places they lived in downtown New York (the background street noises are a trademark of his sleepy blabberings). One thing lead to another, and eventually the tapes fell into the hands of Milt Gabler, A&R director of Decca Records at the time. Gabler amazingly decided to release ten of the recordings on an album; The Dream World Of Dion McGregor (He Talks In His Sleep), released in 1964. Edward Gorey designed the original LP sleeve (see here), along with 30 illustrations for the transcripted Random House book; The Dream World Of Dion McGregor, also published in '64.
When you hear these recordings, they're so inventively bizarre and hysterical (and often dirty) that you immediately question their authenticity. Could someone possess that much comic timing and speed-of-creativity in their sleep? Vocally? "When she wear earrings… two huge chandeliers! A chandelier on each side. Mmmhmm… candles burning in them, flickering. Huge tits! Why you could hang onto them and squeal! Great big hips too. Tight little ass! That's what I call a woman! Pity she's a statue. Drive around it… drive around it! Drive between it! Right between those legs! Look up, quick! Doesn't that look real? It's a wishing well… you look up there and wish for what you want!" McGregor shouts/intones in a Paul Lynde-drawl before concluding with a series of screams (how each recording usually wraps up). By all reports McGregor was a ham-ish, downtown New York scenester born with the gift of spit-take gab. Could the recordings be fake? Half-fake? Or even capture McGregor working under the power of suggestion? By accounts of people that lived with McGregor during different periods of his life, he indeed did this in his sleep for real - microphone or no microphone.
McGregor had an ups-and-downs career as a songwriter, with a few pinnacle achievements. He also had some plum roles in plays in LA and NYC, and a few minor roles in major Hollywood films. He died in 1994.
Here is practically the whole story of McGregor. If you go here and scroll down a bit, you can hear mp3s of two of the recordings; Food Roulette and The Horseshoe Crabs. Here are some archived radio shows about McGregor featuring many of the recordings. A quick search over at WFMU will unearth several archived playlists featuring him. The Tzadik label recently released the CD Dion McGregor Dreams Again, which uses the same source material as the other recordings - just much more of it (and includes the material deemed unsuitable for late-60's audiences). The Amazon page here will let you listen to samples (although with a little elbow grease you can probably find the whole thing somewhere online for free). I have this CD and when I first heard it I thought it was kind of boring. I've sat and listened to more than enough hallucinatory rants from NYC queens in my life (which I've often slept through - the same effect?), thank you. But when I pulled the CD out again I found that I became kind of addicted to it. It's quite long - and every time you hear it you notice 100 new things. Plus, the street sounds in the background and the blank, empty room echo of the recording adds a bleak/creep-out ambience; the perfect backdrop for screaming gay madhouse rants about houses flying through tornadoes, and giant swallowing vaginas.
2 Responses to "The Subvoluntary Somniloquies of Dion McGregor"
on 13 Jul 2006 at 3:21 pm Scott




Interesting. I had a boyfriend who would jump your bones in his sleep and say REALLY dirty things too. It was fun but he was always so disoriented the next day.

It was fun but strange.

The end.




Seriously, do you know if that was Peter De Rome the pornographer who was his roommate? He was, in his own right, a very interesting guy. Do you know, Mark?

xo
Rich