Posted by Mark Allen on 05 Sep 2006 | Tagged as: Random Posts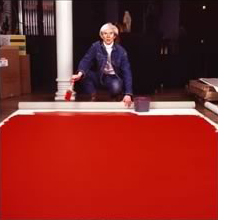 From the Factory: Andy's long lost, blood-sucking film muse: Vox, her film stock mysteriously confiscated by the CIA! Her 15 minutes forever cursed! Late-night screen tests, gorgeous male corpses discovered in rooms, rooftop chases, turtlenecks, wigs!
Or… Studio 54: secret underground hatchery for lobotomized ghouls! Liza and Steve's soul-sucking zombie disco fiends hidden in coffins in a basement VIP room, allowed to covertly devour the flesh of non-VIPs in exchange for immortality! Every word of it is true!
One Response to "Vampires at the Factory, Zombies at Studio 54"



Which person is easier to picture in your mind wearing fake plastic halloween vampire teeth? Try it. The odd thing is, my mind cannot picture Andy Warhol wearing plastic vampire teeth. However, I can certainly picture Liza Minelli wearing them, yapping away and innerupting herself saying –whoops!– each time they fall out of her mouth, their glow in the dark surface encrusted with mallomars.