Posted by Mark Allen on 28 Jun 2006 | Tagged as: Random Posts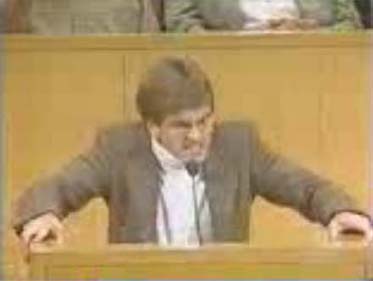 Black helicopters are so September 10th. Case in point: view this "shakin'-shakin'-shakin'" YouTube archived footage of David Thompson of Charlotte, NC, speaking his peace at a local city council meeting - conveniently captured on tape and broadcast live on the local community access channel. I hope the rogue pilot who flew the white helicopter over David's house on Sunday afternoon was watching, so he could learn that the reason there's no ice in the arena is because somebody had their hand in the pie. But rest assured, if John Walsh and his FOX-TV program "F.B.I.'s Most Wanted" [sic] doesn't start the nationwide manhunt to flush Mr. Helicopter Pilot out of his hole, David Thompson will be ready to explode like Mount St. Helen's all over that chameleon, lemon-headed, coward, terrorist pussy …even if it means frightening all the boy scouts in the room (oh, and you better believe they have a right to be scared!) GOOD-NIGHT!!!
One Response to "By Any Means Necessary…"



Well, Burroughs was right of course…
YouTube simply must get some footage of a Detroit City Council meeting, though. Mr. Thompson exemplifies serene sanity in contrast with the proceedings of that honorable body.