Posted by Mark Allen on 14 Sep 2006 | Tagged as: Random Posts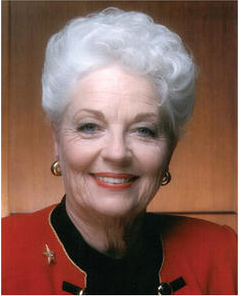 Former Texas Governor Ann Richards died yesterday at her home in Austin, Texas at the age of 73. Here is the New York Times story. Here's a condensed history of Ann Richard's public life. Here are a bunch of Ann Richards quotes. Here are some more. Here can be found the transcript and entire audio of Richards' historic, show-stopping 1988 DNC keynote address. Here's an interesting article from LA Weekly. Here's Ann riding a motorcycle. I love this photo. And this one. Here are some people sharing memories of meeting her. Here's an interesting transcript of a 2001 Larry King Live interview. Here's an interesting 2004 PBS Last Man Standing interview. Here she is in animated form. Here's a fun Alamo Drafthouse Cinema Theaters promo from last year. Here's more photos. Here's everything else.
2 Responses to "Ann Richards (1933-2006)"



What a character. She was in many ways a folksy, funny, fairy godmother drag queen, who just happened to really be a woman. One of my favorite photos of Ann was of her shooting a shotgun during a bird hunt. I wasn't able to find it online, but I think I have a copy cut from a newspaper somewhere. I remember it made me laugh out loud when I saw it the first time, so I kept it.

For a pic of another drag queen former governor, go here:




Had lunch with her a few years back. One of those folks I'll never forget. Sharp as razor wire, kind and gracious, totally unpretentious. Would have loved her as a neighbor.